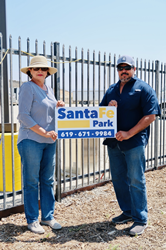 "This was like a miracle. I never knew about the SBA 504 Program, so I never thought I could afford to purchase property for the business. The 10 percent down payment and the low-interest rate made it possible."

SAN DIEGO (PRWEB)
February 28, 2022
TMC Financing administered an SBA 504 loan to Sandra Vargas, the owner of Sante Fe Park, which enabled her to purchase land to operate her business and stabilize her occupancy costs. The 2.31-acre lot was purchased for $2.3 million in September 2021. The 504 loan allowed Vargas to obtain 90 percent financing and a below-market interest rate, fixed for 25 years.
Vargas had 25 years of experience in parking and storage for the trucking industry when she took over the family business. However, when her landlord switched the lease to month-to-month and spiked the rent, she found herself in uncharted territory and was unsure how the company would survive. Sante Fe Park's rent nearly tripled within six months, adding $16,000 per month to the balance sheet.
An SBA 504 loan from TMC Financing saved Santa Fe Park.
While heading the business with her husband Oscar, Vargas wanted to put the company on track for the next generation. She decided to make the fateful switch from tenant to the owner to create a stable future for the business.
Vargas was very aware of how expensive and time-consuming a conventional bank loan was. Financing a simple forklift led to punishing interest rates, even when the business was strong. Vargas connected with Kurt Chambliss, executive vice president of sales and marketing at TMC Financing. From the start, Chambliss knew the SBA 504 loan program could put Santa Fe Park back on a sound foundation for growth.
"SBA 504 loans help small businesses finance owner-occupied properties at fixed, below-market rates," Chambliss explains. "There is no balloon payment, and all loans are fully amortized within 25 years. Sandra only had to put down 10 percent to acquire a lot of her own."
"This was like a miracle," says Vargas. "I never knew about the SBA 504 Program, so I never thought I could afford to purchase property for the business. The 10 percent down payment and the low-interest rate made it possible."
With plenty of support from her family, Chambliss, and the TMC Financing team, Vargas moved forward to purchase a 2.31-acre lot in Otay Mesa, CA, for $2,347,000. Her monthly occupancy costs are now lower than they were when renting.
The stability and certainty of fixed payments have done a lot for Vargas' peace of mind – and the future of the business. Santa Fe Park previously paid three times as much in occupancy costs and lacked access to more than two acres they previously purchased. Currently, they have space to build on. Now at about 60 percent of their capacity, Sante Fe Park is using the excess land in creative new ways to drive income.
About TMC Financing
TMC Financing is a non-profit Certified Development Company with a mission to promote economic development and job creation for small businesses in California, Nevada, and Arizona. Since its founding in 1981, TMC has secured more than $10 billion in SBA 504 commercial real estate financing for 6,000 small businesses. As a result of the financing, these small businesses have created over 60,000 jobs. Business owners in Arizona, California, or Nevada can confirm they meet the qualifications for an SBA 504 loan by visiting the TMC Financing website at https://www.tmcfinancing.com/.
Share article on social media or email: